A look at Halloween's effect on US room demand
Halloween is apt to cause a decrease in overnight stays, which is most pronounced in group business. The impact on transient business is more limited and largely confined to lowered room rates.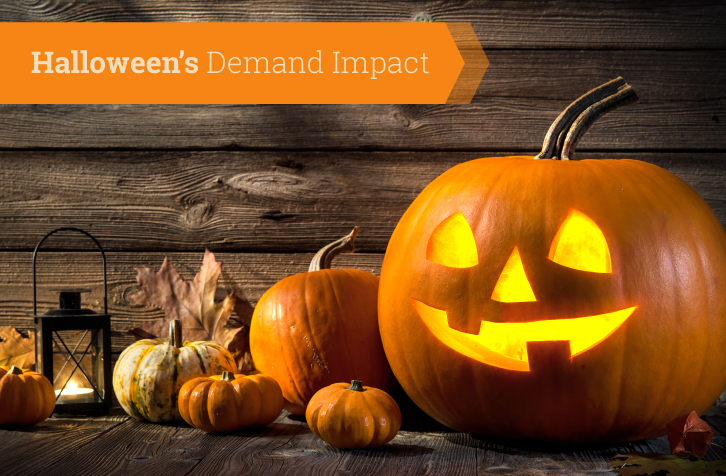 More than two-thirds of Americans plan to celebrate Halloween, according to a 2019 consumer survey.
Among other activities, 69% of Americans say they plan on handing out candy (although 95% say they plan to purchase candy), one-third say they are throwing/attending a party, and another third say they plan to take children trick-or-treating.
Localized activities are a key aspect of this holiday and are bound to have a detrimental impact on the number of U.S. overnight stays along with corresponding drops in hotel occupancy, average daily rate and revenue per available room.
Because 31 October celebrations are not set to a fixed day of the week, STR established a seasonal estimate of "normal" performance on a day by comparing same years' actual daily performance against an average of the two surrounding plus- or minus-seven matched days (e.g. a Halloween Tuesday is compared to surrounding Tuesdays). All segmented analyses have also been limited to upper upscale and luxury hotels to provide greater reporting consistency across report years. (STR is the parent company of Hotel News Now.)
Key takeaways related to segmented demand during the post-Great Recession recovery period (2011 to present) are noted below.
Halloween plus the night before (30 October) pulls the life out of group. The eight-year average of -45% to -13% deficits on daily demand, which lasts from 28 October through 1 November, is a cause for extended groaning among group-dependent stakeholders.
Transient business sees a less bone rattling hit on demand during Halloween. Moreover, transient's period of notable deficits (-18% to -14%) from normal performance only lasts two nights as compared to the five beastly days for group rooms. On average, transient demand is almost back to normal beginning 1 November.
The day of week on which Halloween falls has very little bearing on the indexed demand percentage drops around the 31 October holiday. With the exception of U.S. Presidential Election cycle years (when plus-seven day baselines to both group and transient demand also show large deficits from normal), the percentage drop patterns were highly consistent across all days of the week within both transient and group segments.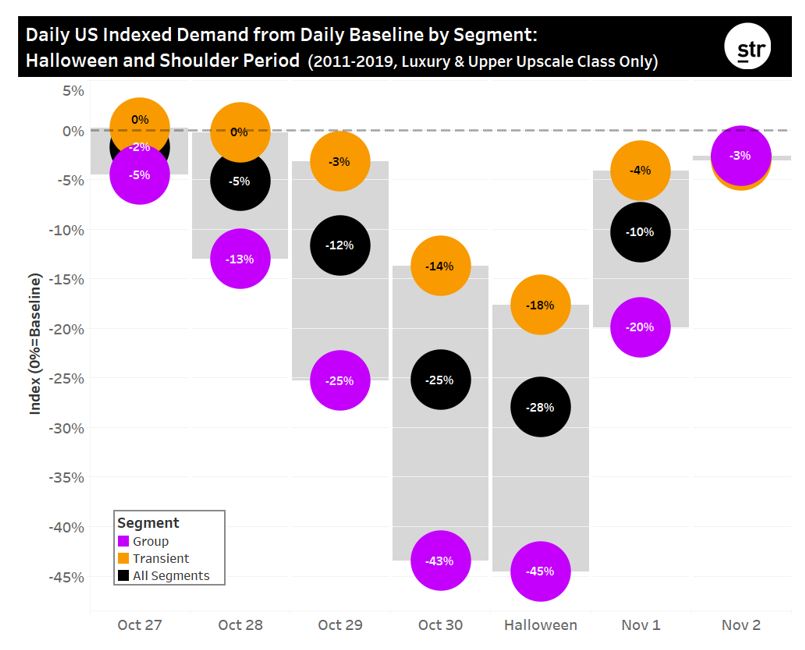 Since 2011, RevPAR over the Halloween holiday has turned in a goosebumps-inducing drop when compared to average RevPAR performance in its surrounding shoulder weeks. The following chart provides an average of the RevPAR dollar deficits compared to the average of same day-year matched shoulder days.
• Chillingly low group occupancies on Halloween night led to an average $31 drop in group RevPAR ($64 in group RevPAR was the norm for matched days).
• In contrast, a majority of the $25 transient RevPAR downturn ($102 is normal) was caused by steeply discounted ADRs.
• Taking into account all segments, Halloween night's average overall RevPAR for all segments averaged $113 or 33% below normal, a $56 dollar shortfall from the $169 seasonally matched-RevPAR average.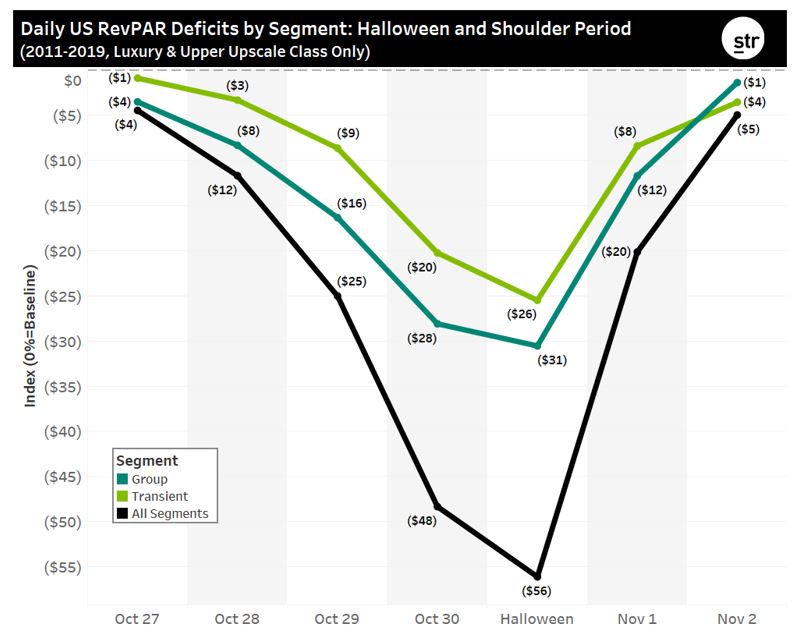 A previous HNN-STR Halloween analysis from 2016 noted how Halloween was increasingly having a more detrimental impact on the industry by keeping travelers off the road, particularly group travelers. Updated data confirms this worsening trend with group demand being the leading cause of the shortfalls for the holiday.
The Halloween period has been increasingly more detrimental for group business since 2011.
Transient segment demand drops from seasonal "normal" have been more stable over the holiday, and have demonstrated less severe drops from baselines since 2014.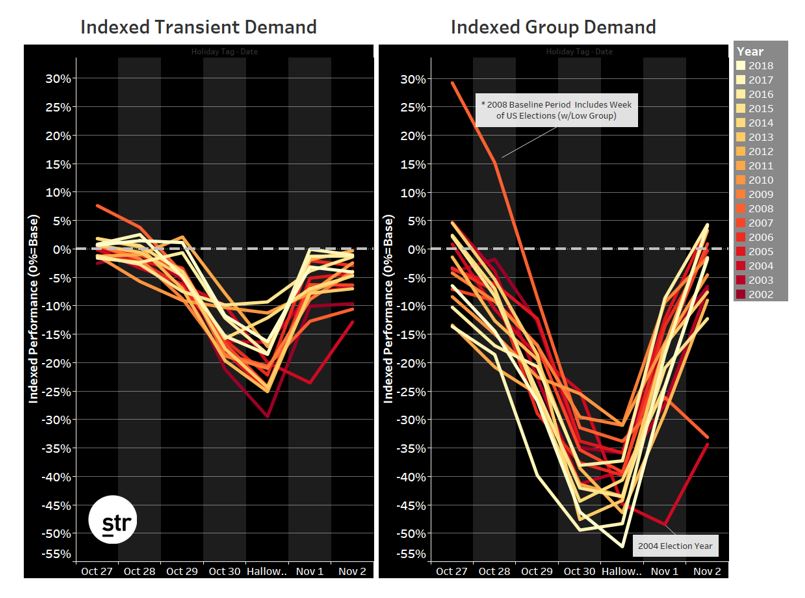 Halloween night is not entirely an unmoving corpse. In fact, total room demand (along with occupancy) among luxury and upper-upscale hotels on this night appears to be generally getting better since the Great Recession, just at a slower growth rate than surrounding weeks. Transient segment occupancy is increasing whereas group and contract rooms appear flat on this night. Filling rooms through discounted transient ADRs appears to be the collective industry response but at a cost of lowered U.S. RevPAR for the holiday.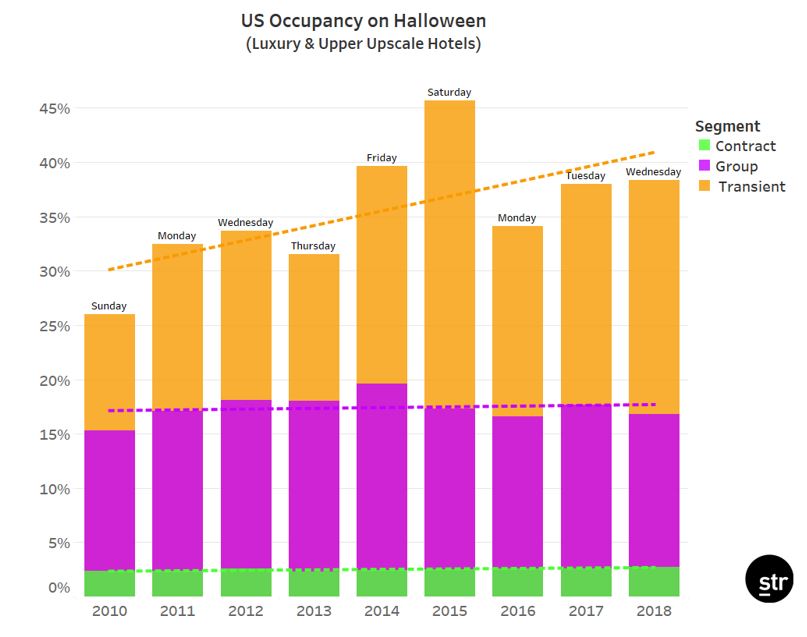 This article originally appeared on Hotel News Now.