GM of Best Western Plus Norman Receives her US Citizenship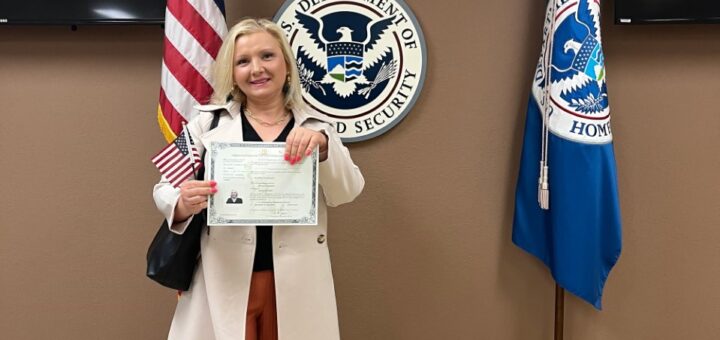 Last month Rusa Zubiashvili, the General Manager of Hospitality Management LLC's Best Western Plus Norman, received her U.S. citizenship. We are so thrilled for Rusa and proud to have her as part of our hospitality team.
Read Rusa's journey here:
I was born and raised in Tbilisi, the capital city of the Republic of Georgia. I grew up in a beautiful family and was raised by very intelligent parents. My dad was a musician and writer, mom is a musician and schoolteacher. I had a happy life in my country until 2008. That was the year when Russia attacked Georgia. It was August 8, 2008 when Russia was bombing a town 80 miles away from the capital city. I remember my cousin, who was serving in the Georgian army, called me and said " Rusa, you need to pick up your kids and leave the country soon as possible." Russians were going to come into the city.  
I picked up my 8-year-old son and 1-year-old daughter and drove nine hours to neighboring country, Azerbaijan. That was the longest and scariest ride ever. We stayed in Azerbaijan for a month and when everything got better, we came back home in Tbilisi.
At that time, I was married, and my ex-husband was a British Citizen. So we decided to sell our four properties in the capital city center, our summer house up in the mountains and my business, 'kids toy store,' and we moved to the UK, in Telford, Shropshire. My youngest son was born in the UK and very soon after the birth of my third child, my husband and I made the decision to get divorced after 14 years of marriage.
After my divorce, in November 2013, I decided to move to the U.S. together with my three kids. At that time my oldest son was 13 years old, my daughter was five and my youngest son was one year old. I arrived in Oklahoma, my mom's sister met us in Will Rogers airport and took us to her home. A month later I bought my house in Norman and moved there with my three kids. It was hard to start life over by myself with three kids but looking at them I knew I had no right to let them down, and they were making me a stronger person every day. Sometimes I say my kids and I raised each other. I am blessed to have them.
I had my first job here with Hilton as housekeeper, and I felt blessed that I had job and I was making $8.00 an hour. After one month of my employment with Hilton I was promoted to be an executive housekeeper with pay increase and General Manager of Hilton sent me to Ardmore for a hotel grand opening to train hotel housekeeping staff.
In June 2016 I saw that the Best Wester Plus Norman was looking for a Housekeeping Supervisor. I applied and sure enough I received phone call from GM Lindsay Kennedy for a job interview. I remember that day well, I was so excited going to my interview. I walked into the room and met Lindsay. During my interview she asked me a question, " Rusa, what is your goal and where do you see yourself in 5 years?" I smiled and said, "I would like to have your job in 5 years!" And here I am, today I am the General Manager of the Best Western Plus Norman.
I always believed in "hard work always pays off," and I am lucky to work for a company who really sees people's hard work, they give recognition and they do appreciate you.
I cannot thank my amazing mentor, Lindsey Kennedy, and our CEO Mr. Steven J Martens enough. I am grateful for being part of the Martens Companies and will always do my best to bring success for this company.
I cannot thank this country enough for welcoming me and my kids and thank you to every single person who supported us from the day of our arrival in the U.S., until the day of our citizenship.
February 26 was happiest day for me and my children, we received our U.S. citizenship and I am very proud to be a Citizen of this beautiful country. I will do my best to be a good citizen of the U.S.