NAI Martens Blog ~ Exploring Wichita's Prospects: an Insight into Tax Increment Financing (TIF) Districts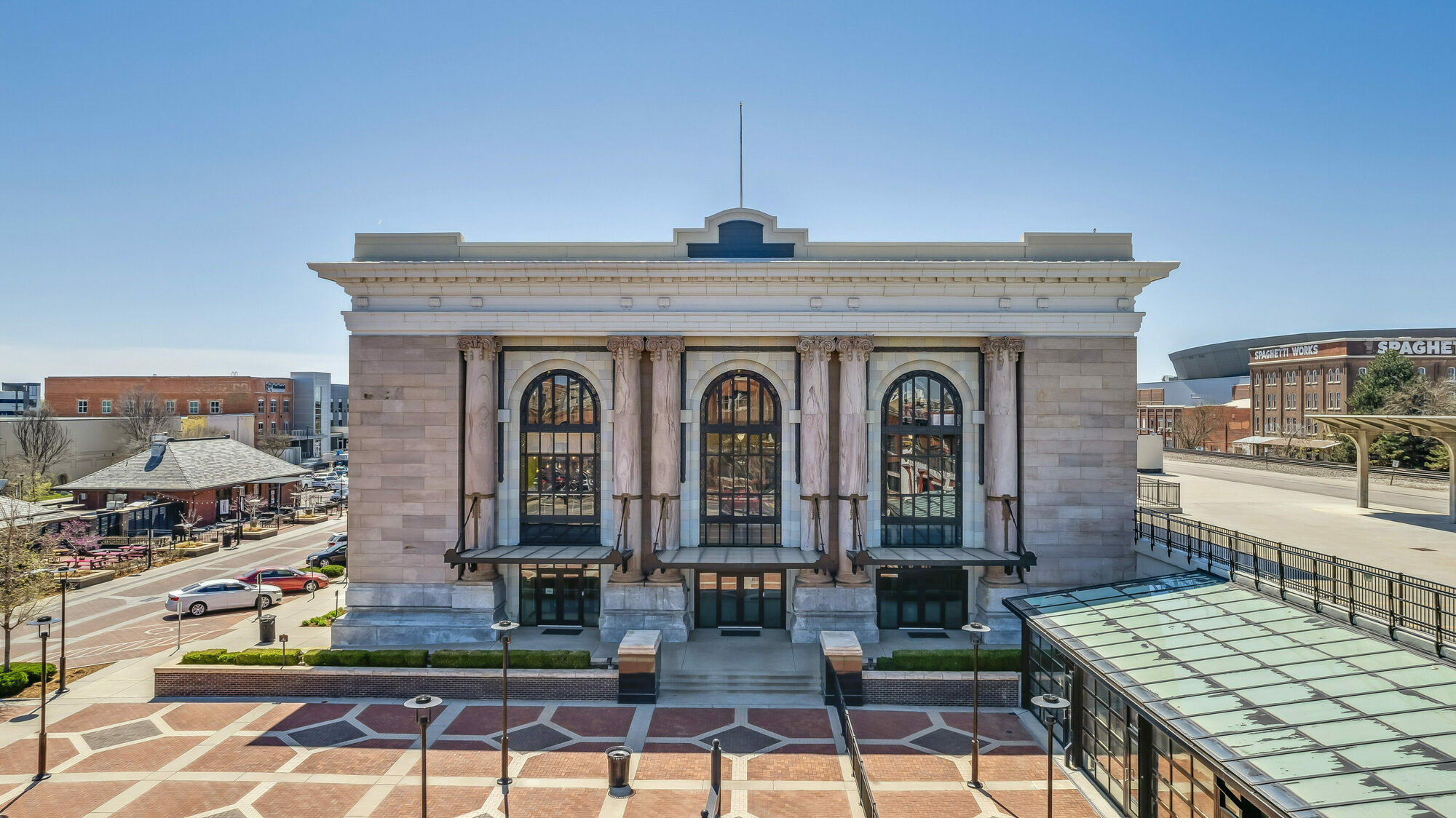 To facilitate the overhaul of the Union Station campus, this TIF district was established in 2014.
At the heart of Wichita's vibrant economic landscape, Tax Increment Financing (TIF) districts have played a pivotal role in revitalizing and reimagining various areas of our beloved city. As a commercial real estate brokerage, we believe it's essential to keep the community well-informed about the impact and whereabouts of TIF districts in Wichita. This blog post is dedicated to explaining what TIF is and providing an overview of the nine active TIF districts in Wichita.
What is TIF?
Tax Increment Financing (TIF) is an economic development tool that fuels the redevelopment of blighted areas within the city. It operates by capturing the incremental increase in property taxes that naturally occurs over time due to new investments in the area. These incremental increases are then utilized to repay bonds issued to finance the project or to reimburse the developer on a pay-as-you-go basis. TIF funds are directed toward various costs, including land acquisition, site preparation, infrastructure development, parking structures, and related expenses.
Link to Local Guidelines: Sedgwick County/City of Wichita Economic Development Guidelines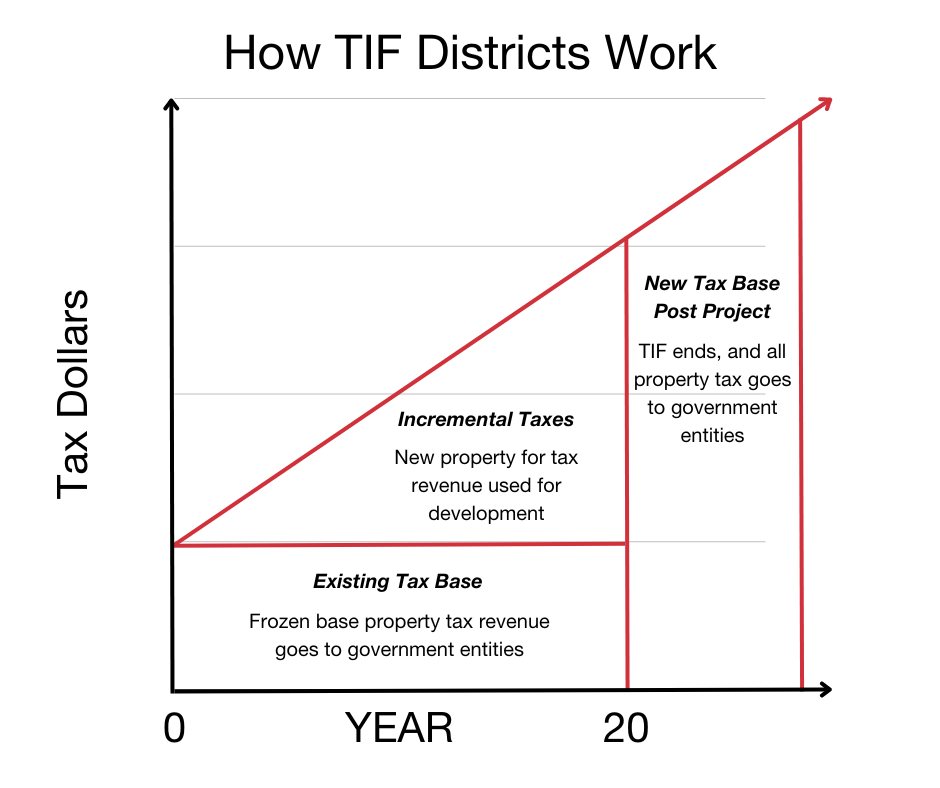 Wichita boasts nine active TIF districts, each contributing to the city's growth and development. Here's a breakdown of these districts in chronological order of their establishment:
East Bank TIF (Created in 1995): Encompasses downtown riverfront and WaterWalk. Initially established for the development of the Hyatt Regency. Expected to reimburse all debt service obligations by 2027.
Douglas and Hillside TIF (Created in 2006): Initially created for a condo tower and mixed commercial uses. Underwent changes in 2016, leading to the Uptown Landing project. Estimated to expire in 2027.
Center City TIF (Established in 2007): Supported various downtown projects, including Intrust Bank Arena, Ambassador Hotel, and ReNew Apartments. Debt is mostly issued, with properties' valuations expected to continue maturing.
Ken-Mar TIF (Created in 2008): Aims to revitalize the area at 13th and Oliver. Facing challenges due to property valuation and expected to provide annual reimbursement payments by 2029.
Southfork TIF (Established in 2012): Envisioned for new retail, restaurants, and commercial uses. Different financing models, reliant on property owner special assessments. Developer is eligible for up to $5.1 million in reimbursement.
Union Station TIF (Created in 2014): Supports Union Station campus renovation. Uses private financing and reimbursed for eligible costs when TIF revenue becomes available, up to $2.5 million for the first phase.
West Bank TIF (Established in 2018): Aims to support the development of Riverfront Stadium and surrounding construction. Accumulated a surplus due to incomplete debt issuance. Performance hinges on improvements' timing, valuation, and debt issuance.
Riverside TIF (Set up in 2020): Designed for infrastructure improvements to support a housing development north of Sim Park. Expected to produce incremental revenue starting in the current year. Additional funds may be used for pay-as-you-go financing.
ICT21 TIF (Established in late 2021): The newest TIF district meant for the redevelopment of a former oil refinery site into an industrial park. Expected to start producing incremental revenue in the coming years.
Wichita's TIF Districts Map: https://www.sedgwickcounty.org/media/54561/2018-tif-map-2.jpg
For more TIF District Information: Tax Increment Finance (TIF) Districts | Sedgwick County, Kansas
Tax income Financing Page 205: 2024-2025 Proposed Budget.pdf (wichita.gov)
The Future of Local TIF Districts
Recently, the Wichita City Council discussed the creation of a new tax increment finance (TIF) district adjacent to Riverfront Stadium. City officials say it's not a new TIF district, but some disagree. The TIF question and other development plans along the Arkansas River's west bank were at the forefront of the discussion.
The council approved a public hearing scheduled for November 21 to consider amending the Delano and stadium project plan, along with adopting a new stadium hotel project plan for the West Bank Redevelopment District. This amendment could allow developers to be reimbursed for up to $11.3 million in TIF funds and about $3.2 million in sales-tax exemptions tied to industrial revenue bonds. This is an increase from previous projections of $8.7 million in TIF and $906,000 in IRB support.
Assistant City Manager Troy Anderson clarified that the proposal does not create a new TIF district but carves out a new project area within the existing TIF district boundaries. The change is necessary due to shifts in the developer's plans, including the transition from Class A office buildings to a 180-unit luxury apartment complex and a 260-stall parking garage planned for city ownership. The project still includes an eight-story, 165-room hotel and 10,000 square feet of retail space.
While the city's projected benefit has decreased, the developer's benefit has increased due to rising construction costs and changes in the lending environment. If the amendment is approved in November, TIF funds will be used to reimburse the developer for various project expenses.
Public skepticism was evident during the discussion, as promises made for ballpark development in the past have yet to materialize, and there has been a history of keeping certain details from the public. Some constituents expressed concerns about the Riverfront Stadium development and called for greater clarity.
The City Council agreed to organize a public forum where residents could engage with the city and seek answers to their questions before the November 21 meeting. City officials emphasized the importance of moving forward with the project to bring in anticipated revenues and benefits.
In the end, Wichita's TIF districts are instrumental in breathing new life into our city's diverse neighborhoods, fostering economic growth, and creating vibrant communities. As a commercial real estate brokerage, we're committed to keeping Wichita residents informed about these critical development tools that contribute to our city's continuous evolution. Whether you're a business owner or a resident, understanding TIF districts is essential for appreciating the transformation happening around us. Stay tuned for more updates on Wichita's commercial real estate landscape!
Additional Information Sources:
Wichita's 9 active tax increment financing districts – Wichita Business Journal (bizjournals.com)
Wichita officials address 'misinformation' about Riverfront Stadium development – Wichita Business Journal (bizjournals.com)