Glenn Cox Completes Emerging Leaders Program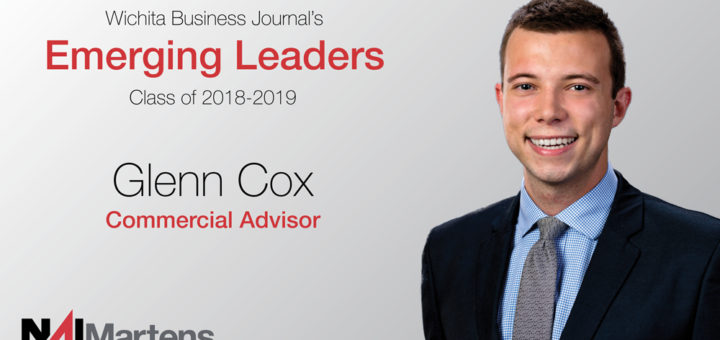 Recently the Wichita Business Journal's Emerging Leaders program wrapped up. This was the fourth class of Emerging Leaders. The program allows participants to take classes at the Kansas Leadership Center and participate in panel discussions with fellow members.
NAI Martens commercial advisor Glenn Cox was a part of this year's group. The Business Journal asked each participant questions about the program, below are Glenn's thoughts on the experience.
What did you get out the program? 
I have gained new perspectives by listening to other members and community leaders. I leave with an impact in my life and encouragement for the future of Wichita. Hearing insights and listening to the emerging leader's perspectives of approaching obstacles, desire to foster impact effectiveness, passion collaboration, and sustained commitment has opened my eyes even more to the potential of our city. My thought process and mindset has been challenged to think outside the box. Throughout our discussions, I have observed the power of collaboration and listening to points of view which are not my own. There has been an underlying observation of each member understanding that even though we all come from different backgrounds, our generation can collaborate to raise the bar past what was thought to be possible before.
How do you want to stay involved with others in the program?
Multiple avenues. As with the Emerging Leaders program, I believe continued genuine relationships will be contingent on the idea of 'you get out what you put in' — intentional effort to devote to further relationships which started within the group. Focusing on taking the time to have lifetime connections in and out of the work setting by making a priority to have one on one lunches, coffee before the workday begins, and group discussions to further dialogue. Also, I want to strive to be present within the community as much as possible. Networking, yes, but focus on developing personal connections on a level beyond to support members in all they do. I look for future opportunities with the group to further relationships, collaborate, and enjoy all Wichita has to offer.
What are the best aspects of the program?
For me, the new circle of colleagues with a common goal of furthering Wichita's progress in all areas. People make the difference in creating an excellent environment, and this group has proved to be precisely the case. Observing firsthand the inclusion and support for others beyond the program showcased the best Wichita has to offer. The group member's different perspectives brought new insight and mindsets about the potential of our city and how to take action. Beyond the members of the group, I have had the opportunity to gain insight from community leaders across all industries, and public entities share goals for the future of our city and lessons they have learned throughout their life. The impact I take away is beyond a panel discussion, but rather insight from their experiences leading to applicable career and personal development.
What were some of the topics you are most passionate about that came up during Emerging Leaders?
Discussions on Project Wichita, economic development, community inclusion, outreach opportunities, Wichita's identity as the 'Air Capital of the World', job growth and sustainability, and quality of life.
How optimistic are you about our city's future?
Wichita has the potential to prosper and be a standout community unlike any other in the country. In the last five years, Wichita has experienced a level of pride I have never seen in my lifetime. There is a focus on the quality of life. We, as a city, are experiencing positive momentum. Some examples include the investment in the downtown core, thriving local shops and restaurants, the Wichita flag resurgence, a massive progression of the Douglas Design District, improvement and revitalization in neighborhoods which have historically not received attention, new entertainment and art destinations, consistent community events and outreach, with the list goes on and on. This positive movement and sense of pride are fundamental to continue transforming and growing our city.
Without beating around the bush, Wichita has a handful of challenges. The emerging leader's generation thinks in a way, unlike others before us. We struggle to retain talent. Having grown up in Wichita, and transitioning into my career there has been no shortage of hearing the chatter from young adults and professionals who have expressed points of concern and frustrations with the area we reside. We all have listened to our fair share of generalized perceptions of Wichita which only limits the potential for the future. The emerging generation must look in the mirror, and take a sharp look at certain aspects going forward to compete nationally and continued improvement in the quality of life. Get out of our comfort zone and take the risk. Wichita is a city with a history of successful entrepreneurs who once only had an idea and took a chance. The emerging generation must realize we have just as much ability and opportunity as who have come before us. Adaptation of the changing marketplace is crucial for our Wichita to compete and thrive within the global landscape. Our history of success in the aerospace and advanced manufacturing fields will always be a cornerstone of our identity, but we must adapt and evolve. Wichita has an incredible opportunity for growth with technology innovation going forward. The attitude of limitation based on our population size, geographical location, or labels of what type of city we are bear no truth. With intentional conversation, challenging the status quo, and devoted energy, we can create change and accomplish anything.