Major-League Affiliated Baseball is Back: What this means for Wichita and CRE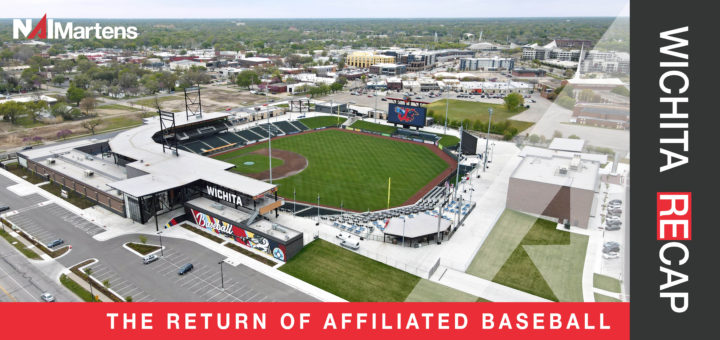 Last week saw the official return of affiliated baseball to Wichita. The journey to this point was filled with unexpected setbacks – controversy over a land deal, a pandemic, a change in the team's MLB affiliate and the sudden death of team owner Lou Schwechheimer. But none of these seemed to matter on the night of the home opener, which saw a crowd of nearly 8,000 show up. The community appeared excited to witness its first taste of affiliated baseball since the Wichita Wranglers last game in 2007.
The success of the season opener and the excitement surrounding it are a good sign for Wichita. The construction of Riverfront Stadium was an investment in the community – one that some worried would not pay off as expected after a year of dealing with COVID-19. The stadium is just one piece of the puzzle though. Over the last decade public and private investment has been going into downtown Wichita, and now that the world is reopening the revitalization is getting back on track.
Being home to the stadium, the Delano District will likely see the greatest impact from this baseball season. Businesses there have the chance to see increased traffic before and after games, and other new development, such as the new 235 Sycamore apartments, have made the district an even more desirable place to be. Riverfront Village, a mix-use development planned for along the west bank of the Arkansas River, promises to draw even more people to the city's core once it begins to take shape in the coming years.
The success of this season's opening has shown the community's confidence that Wichita is still dedicated to its goal to grow, diversify, and attract and retain top talent. Even with the changes brought by the pandemic, downtown Wichita has been and will continue to see improved office, retail and public spaces which seek to encourage a greater sense of community in Wichita.