Four Veteran NAI Martens Brokers Buy Majority Stake in the Firm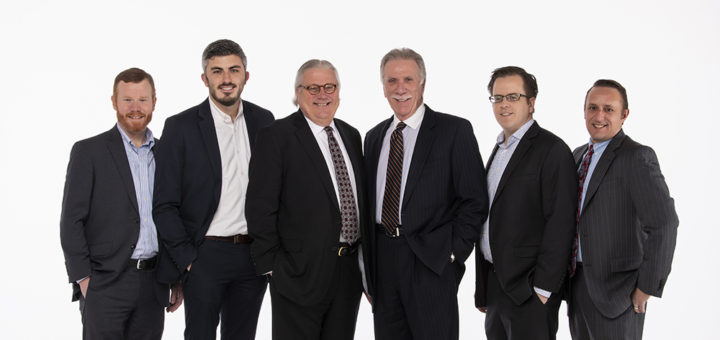 WICHITA, Kansas – Four NAI Martens senior vice presidents are purchasing a majority stake in the company, which is Kansas' largest full-service commercial real estate firm. The four veteran brokers – Jeff Englert, Grant Glasgow, SIOR, Kris Wessel and Nathan Farha, CCIM – have a combined 66 years of experience with firm and have been instrumental to NAI Martens' success over the past two decades, said CEO Steven J. Martens, CPM, CCIM, SIOR, who remains a shareholder of the firm.
"For more than 70 years, our firm has generated commercial real estate deals that sparked economic growth and job creation throughout Wichita and Kansas," Martens said. "Firm President Tom Johnson and I have been fortunate to mentor a team of highly talented young brokers who have contributed to our success, while demonstrating their individual skills as savvy business people and emerging community leaders.
"I've made a multi-year commitment to continue as CEO of NAI Martens," Martens continued. "While Tom and I will remain actively involved in the company, we are both tremendously excited about our firm's next chapter. We're in a unique position to have a relatively young leadership group in place, each with specific market sector expertise in retail, office, multi-family, industrial and investment properties. Jeff, Grant, Kris and Nathan are all 40 or under, yet each has nearly 15 or more years of experience in the business. Most importantly, they have a vision to carry our success forward for the next 40 years or more," Martens said.
Continuing the NAI Martens legacy for excellence is a top priority for the new leadership team, said Glasgow.
"Over the years, NAI Martens has earned a reputation as a company where new advisors can learn, grow and become major contributors," Glasgow said. "We each have great appreciation and respect for Steve and the business he has created. A big part of this ownership agreement is ensuring that Steve's legacy will continue to benefit current and future advisors for years to come. That includes our focus on mentorship and training of young, talented brokers and support staff."
Continuing investment in data-rich technology and leveraging the systems and expertise of NAI Global is another key focus of the team, added Wessel.
"Under the leadership of Steve Martens and Tom Johnson, the firm has invested heavily in people and technology," Wessel said. "As a result, we deliver highly favorable outcomes for clients. We intend to be even more proactive with our 425 NAI Global affiliate offices worldwide. The wealth of investment opportunities stemming from the NAI Global network is unmatched by any other commercial real estate firm in Kansas."
About The Leadership Team
Jeff Englert, 40, and Nathan Farha, CCIM, 35, work as a brokerage team specializing in multi-family and investment properties. Together, Englert and Farha have brokered over 4,500 units in the last five years alone. Englert and Farha's notable 2018 deals include the sales of Wichita's Stratford East and West Apartments and Westport Apartments. Together they have brokered the highest number of multi-family transactions in the company's history and more units than any other brokerage firm in the Kansas multi-family market.
In addition to their joint brokerage efforts, each has individually brokered numerous high-profile transactions. With over 18 years of experience in appraisals and commercial brokerage, Englert is a specialist in the multi-family market and has brokered nearly $200 million of investment transactions in the past four years. Farha, who joined the firm in 2005, is a specialist in investment deals.
A graduate of Wichita State University, Englert was honored in 2006 as one of the Wichita Business Journals' 40 Under 40. He is a member of the Wichita Historic Preservation Board and the Apartment Association of Greater Wichita.
Grant Glasgow, SIOR, 39, has more than 18 years of commercial real estate experience with a wide range of expertise in industrial and office representation. Significant recent transactions have included the sale of the Farm Credit Bank Building and the sale of the multi-tenant K-42 & West Business Park. His notable 2018 deals included the sale of Wichita's Aetna and Woodspring Hotels office buildings in Wilson Estates, and the sale of a northeast Wichita retail center investment portfolio including Comotara Center, Normandie Center and Brittany Center.
In 2015, Glasgow was recognized as part of Wichita's Emerging Leaders program, in conjunction with the Kansas Leadership Center. A graduate of Wichita State University, Glasgow is a past board member of the Wichita State University Alumni Association. He was honored in 2008 as one of the Wichita Business Journal's 40 Under 40 and was recognized as a Top Commercial Agent in the Wichita Business Journal's 2018 Real Estate Awards.
Kris Wessel, 35, first joined The Martens Companies in 2003 as an appraisal assistant, moving into brokerage in 2006. During his 15-plus years with the firm, he has completed numerous transactions involving industrial and investment property sales, and now specializes in the sale of manufactured housing communities throughout the Midwest. Notable 2018 deals included the sales of Wichita's Lakeview Mobile Home Community, and the four-property MHC portfolio in Liberal, Kan.
Wessel is active in several trade organizations that serve the manufactured housing industry and was the Kansas Manufactured Housing Association's 2018 Member of the Year. He is a past board member of both the Wichita Manufacturers Association and the Wichita Regional Chamber of Commerce. He is also an active member of Rotary Club of Wichita. Wessel was honored as one of the Wichita Business Journal's 40 Under 40 in 2010 and was recognized as a Top Commercial Agent in the Wichita Business Journal's 2018 Real Estate Awards.
About NAI Martens
NAI Martens is the largest full-service commercial real estate firm in Kansas. Founded in 1948 and headquartered in Wichita, NAI Martens provides a vast array of commercial real estate services throughout south-central Kansas and Topeka. Commercial real estate services include brokerage, appraisal, property management, consulting, site selection, highest-and-best use analysis and more.
About NAI Global
NAI Global is a leading global commercial real estate brokerage firm. NAI Global offices are leaders in their local markets and work in unison to provide clients with exceptional solutions to their commercial real estate needs. NAI Global has more than 425 offices strategically located throughout North America, Latin America, Europe, Africa and Asia Pacific, with over 7,000 local market professionals, managing in excess of over 425 million square feet of property. Annually, NAI Global completes in excess of $20 billion in commercial real estate transactions throughout the world.
NAI Global provides a complete range of corporate and institutional real estate services, including brokerage and leasing, property and facilities management, real estate investment and capital market services, due diligence, global supply chain and logistics consulting and related advisory services.
To learn more, visit www.naiglobal.com