Update on Kansas Economic Conditions
Wichita State's Center for Economic Development and Business Research is a great source of information on economic conditions throughout Kansas. From time to time we like to bring you the latest updates.
CEDBR Releases January Employment Forecast
Kansas total nonfarm employment increased by approximately 20,000 workers from November 2017 to November 2018, a 1.4 percent increase, with growth across most sectors. This was a substantial upturn in employment after near-zero employment growth in the state in 2016 and 2017, with only a cumulative 0.2 percent increase over those two years. Kansas's unemployment rate has continued to decline in 2018 to 3.2 percent in November 2018, the lowest level in the state since May 1999. Nationally, unemployment also declined in 2018 to a low of 3.7 percent in November 2018.
In Kansas, employment growth is projected to continue into 2019 at 1.1 percent, which is expected to add more than 15,000 net new jobs statewide. Growth is forecast to be the strongest in the production sectors, while the government sector is projected to have the slowest employment growth in the Kansas economy.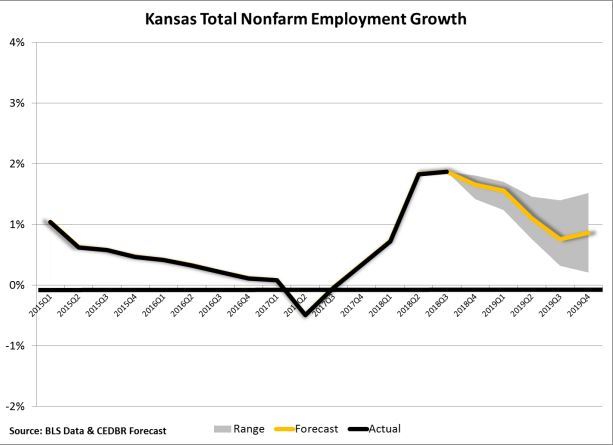 Real Estate and Leasing Industry News and Developments
Real estate and leasing related employment in Kansas remained relatively flat in 2017 with 15,300 workers after experiencing modest growth from 2012 to 2016. In 2016, employment in the sector neared its pre-recession peak of 15,400 workers from 2007. In recent years, most of the growth in the sector has occurred in the office of real estate agents and other activities related to real estate subsectors, which collectively added more than 1,600 jobs from 2012 to 2017. The rental and leasing services and lessors of real estate subsectors, which in 2017 comprised 46 percent of total employment in the sector, have collectively lost more than 500 jobs since 2015 and 1,000 jobs since 2011.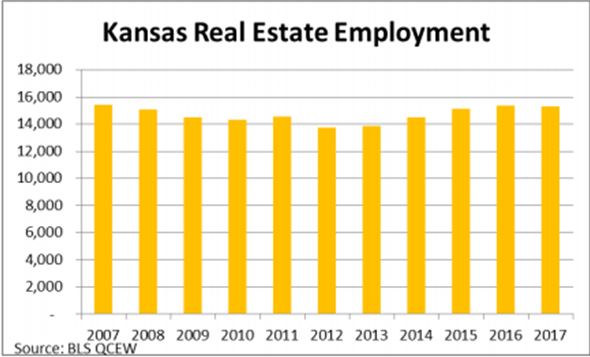 Retail Trade Industry News and Developments
In 2017, retail trade employment in Kansas contracted by 2,700 jobs, the first decline in retail trade employment in the state since 2010. The decline in 2017 was broad-based, with job losses in every major metropolitan area and in the non-metropolitan areas of the state. From 2010 to 2016, the sector expanded by approximately 10,000 jobs statewide, concentrated primarily in the Wichita and Kansas City metro areas. In that time, the Wichita metropolitan area gained 3,000 jobs and the Kansas City, Kansas, metropolitan area gained 5,000 jobs