Key Takeaways from the CEDBR Misery Index Report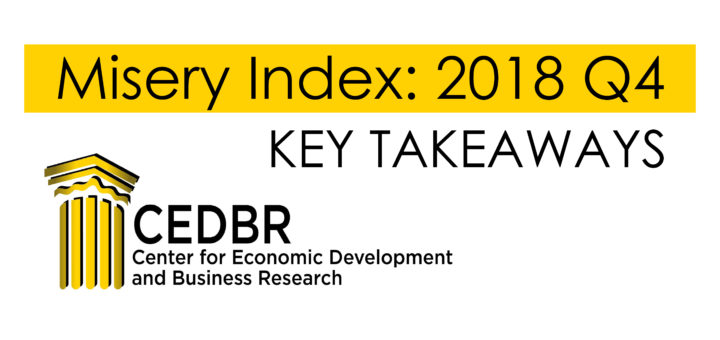 The Center for Economic Development and Business Research released its Misery Index 2018 Q4. The index measures the impact of economic conditions on people by combining changes in the Housing Price Index, the Consumer Price Index and the unemployment rate. Overall, the report finds that misery has decreased. Here are the big takeaways from the report.
The level of misery for the U.S. and for Kansas decreased between the third and fourth quarter.
The greatest contributor to this decrease is the lower unemployment rate.
The level of misery for Wichita decreased 12.6% quarterly and 6.3% annually.
Wichita and Topeka have misery levels above the state, while Kansas City and Lawrence are below.
Kansas and all its regions are below the national level.
Click here to read the full report and visit http://www.cedbr.org/ to view more of their research.